8MP & Mic
Built-in 8MP auto-tracking camera in the optimal location and 6-element Mic array brings an immersive face-to-face video conference experience.
4KUHD
4K UHD resolution delivers crystal clarity and brings us a higher-definition visual experience and an immersive environment.
8-core CPU
Brings an 8-core CPU, faster, more smooth, and less waiting.
8GB+128GB
Built-in 8GB RAM and up to 128GB memory mean you can do more, and keep more, of the things you need: apps, videos, photos, documents, and beyond.
Z Generation ValueHub Pro+ Interactive Display
Born for Extreme Perfection
As the flagship of ValueBub, Z Generation ValueHub Pro+ interactive displays (interactive board) delivers the best performance and quality among interactive displays. Built-in 8-core CPU and GPU, up to 128GB Flash, it can run faster and smother and keep more things you need for teaching and meeting. 4K UHD resolution and triple-section crossover loudspeakers bring you clarity and breathtaking audio and visual experience. Features Zero Bonding Technology and 40 points IR Touch for more natural handwriting and a significantly enhanced touch experience. Additionally, Z Generation ValueHub Pro+ is coming with 8MP auto-tracking camera and automatic echo suppression 6-Array microphones bringing you remote video conference with an immersive experience.
Z Generation
VALUEHUB PRO+
INTERACTIVE DISPLAYS
ValueHub Pro+ Interactive Displays is inspired by the design of traditional Chinese furniture, sustaining its quality through age and obtaining an artistic sense of beauty.
With the location at the side of the display and the same height as people's eyes when sitting, the built-in camera provides the optimal camera angle for participants.
ValueHub Pro+ Interactive Displays features Zero Bonding Technology and a faster and more advanced IR Touch solution to deliver more natural handwriting and a significantly enhanced touch experience using a pen bin with nanomaterial.
Run with Optimal Performance
Think Fast Move Faster
Equipped with the latest Android version,
Quad-core ARM Cortex-A73 + Quad core Cortex- A53 CPU
G52*8(8 Core) GPU
Up to 8GB LPDDR4 + 128 GB onboard Flash, the performance is improved by more than 2 times compared to the previous generation.
Slot OPS computer is optional with higher configurations like Intel 10th generationi7 CPU.
Manufacturing with 14nm process technology, the CPU design is Comet Lake, with 8-core and 16 threads to enable easy and smooth handling of multiple tasks.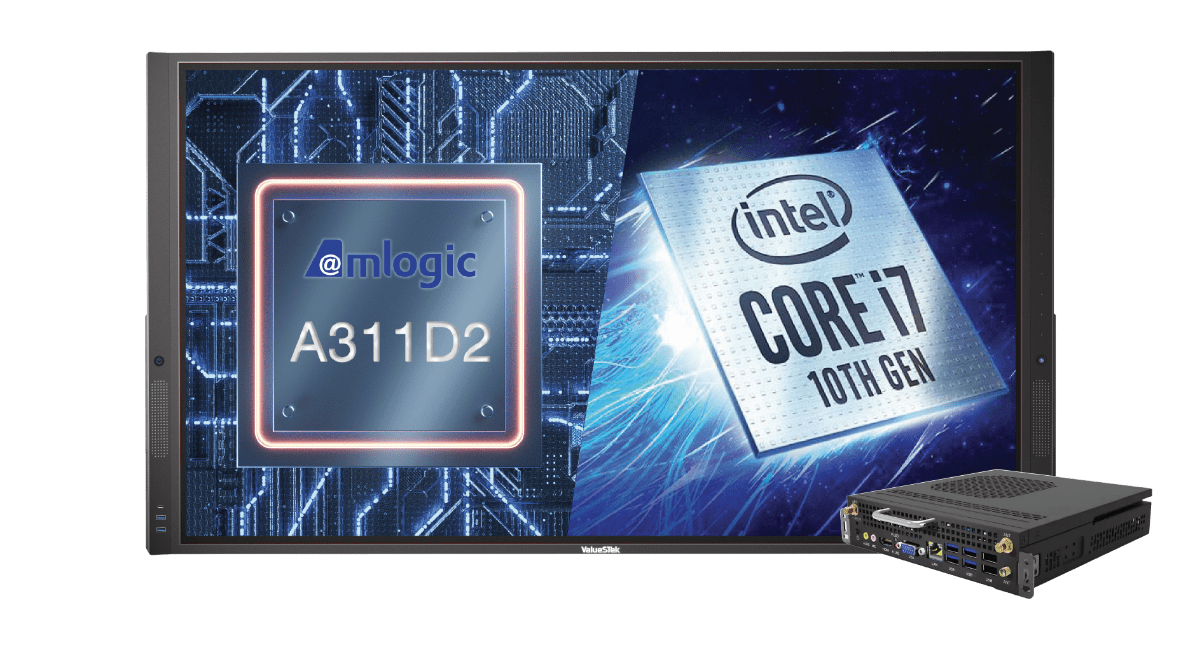 Innovative Camera Design, AI Auto-Tracking
From classic, beyond classic
Inspired by the design of the traditional Chinese furniture Qiaotou An and in accordance with ergonomics, Z Generation ValueHub Pro+ interactive displays creatively is set the camera at the same height as the human eyes at the side of the interactive displays, and rotates the lens inward by 16°, making the picture captured by the camera exactly same as the viewing angle seen by the on-site participants. With AI auto face-tracking technology, the camera will adjust its position and zoom to find and frame everyone in the room to keep participants focused on the picture. Plus, it features 8MP high resolution, auto white balance, and 2D/3D noise reduction technology to ensure excellent clarity and even partially enlarges the picture.

Highly Sensitive Mic Array and
Wider Frequency-Domain Speakers
Clear and real
Equipped with built-in 6-Array microphones up to over 8 meters pickup distance and a noise reduction algorithm, environment noise and the unwanted hustle and bustle can be canceled out. In the meantime, Z Generation ValueHub Pro interactive displays support automatic echo suppression to eliminate echo in video conferencing, therefore delivering a clearer and smoother voice.
Offering two triple-section crossover loudspeakers to restore the sound of different frequency bands, unleashes a powerful bass, warm and clean mids, and bright and clear highs. It has a wider frequency response range and better restoration, and truly restores the sound environment that it should be, comparable to professional audio.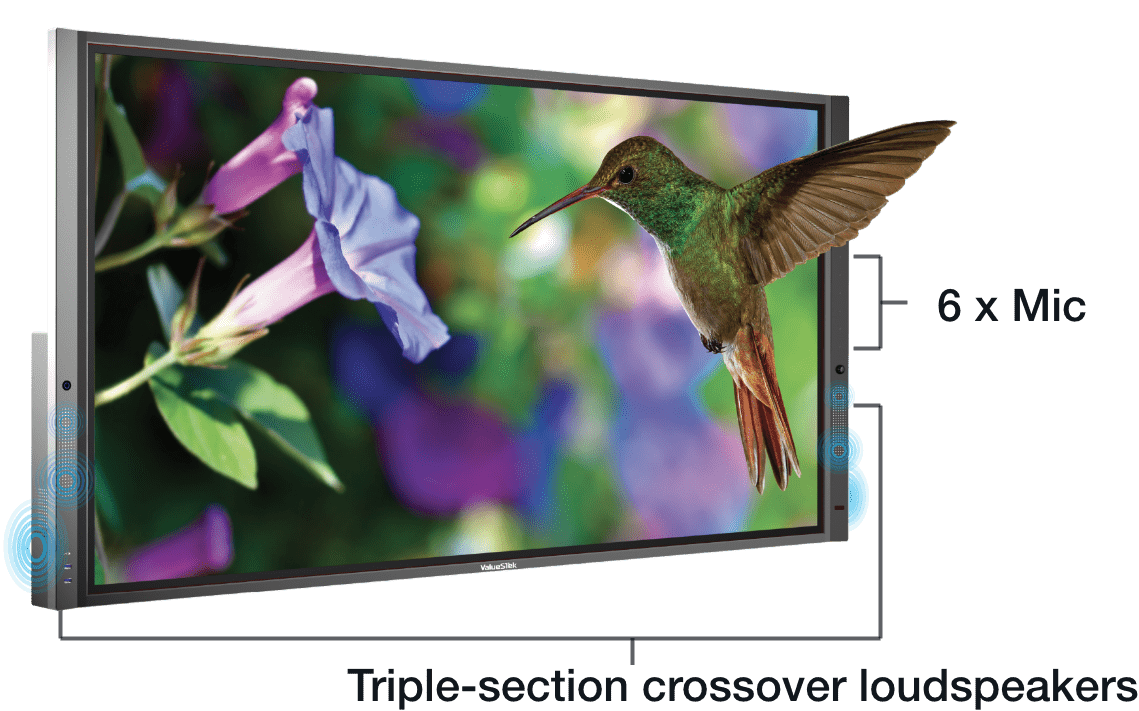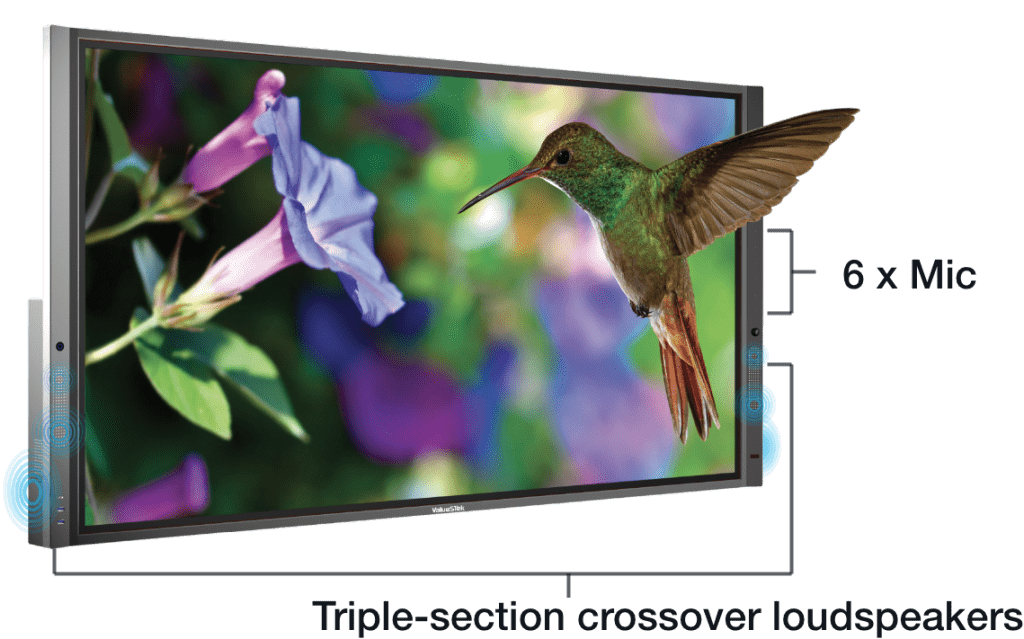 High-Speed Infrared Multi-Touch
Draw, write, and inspire new ideas
No matter how advanced the technology may be, people still like to write on paper.
Z Generation ValueHub Pro+ interactive displays give you a smooth, natural pen-to-paper-like writing experience – smooth, accurate, with a rustle of the nib, as if you were writing on paper.
Equipped with an ultra-high speed precision multi-point touch screen, Z Generation ValueHub Pro+ interactive displays accurately remodel a traditional writing platform. Offers specially treated tempered glass and a flexible stylus tip to make contact as natural as writing on paper.
Plus, object recognition technology that can recognize two different nib sizes, supporting two different styles of handwriting. And, if you accidentally made a mistake, you can gently erase it with your palm – another 'natural' feature, loaded with technology.
Zero Bonding Technology and Dual Pen & Dual Color
Upgraded touch resolution with advanced technologies, ValueHub Pro+ Interactive Displays gives you a smooth, natural pen-to-paper-like writing experience.
—Zero Bonding Technology, less visual error
—Super fast response speed
—Special treatments on the writing surface
—Dual pen & dual color
4K Ultra HD Resolution
4K UHD resolution delivers clarity and breathtaking visuals for realism
ValueHub Pro+ Interactive Displays(also known as an interactive screen or interactive board) 4K Ultra HD 3840 x 2160 display ensures clarity and delivers breathtaking visuals. Every presentation, every image, and every video you share will be reproduced clearly and accurately.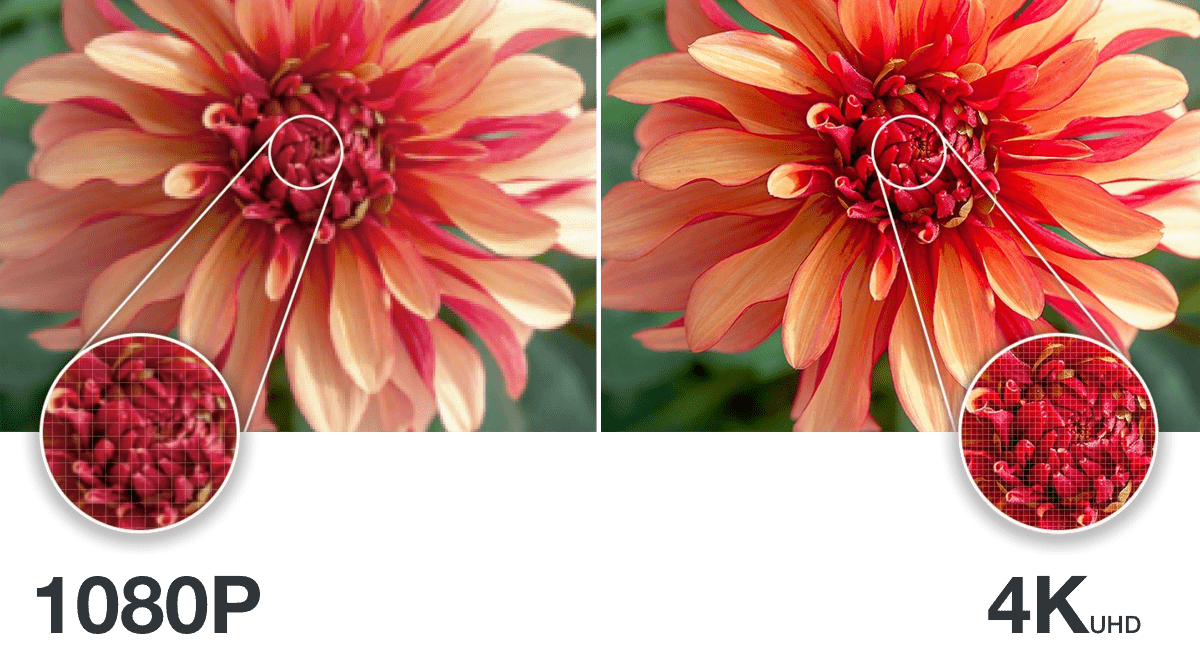 Wireless Screen Mirroring
More sharing, more wonderful
The newly upgraded Z Generation ValueHub Pro+ interactive displays offers a variety of wireless solutions to showcase your creativity in seamless collaboration:
A newly added USB Type-C port shares the screen with the Z Generation ValueHub Pro interactive displays and enables reverse touch control from the touch screen. Carrying video & audio, touch signals, and charging with a single cable, 3-in-1, is more concise and convenient than traditional methods for you to deliver interactive and engaging content without any hassle.
Wireless screen-mirroring: Just plug in the USB dongle and click the button − the content on the PC can be then presented on the Z Generation ValueHub Pro interactive displays screen, increasing visibility and engagement in larger spaces. Plus, two-way mirroring and control make sure that your important information will not be missed.
Mobile terminal mirroring: Smart, wireless sharing from multiple devices to up to 9 screens simultaneously to support and highlight the productivity of your team.
Smart Eye-Protected Solution
Protect eyes protect future
Parents and teachers worry about children's eyes a lot nowadays with the electronic environment around them. For an eye-protected, smooth, and comfortable viewing experience, ValueHub Pro+ interactive displays have the technology to reach Low Flicker, Low Blue Light, and Anti-Glare features on the screen.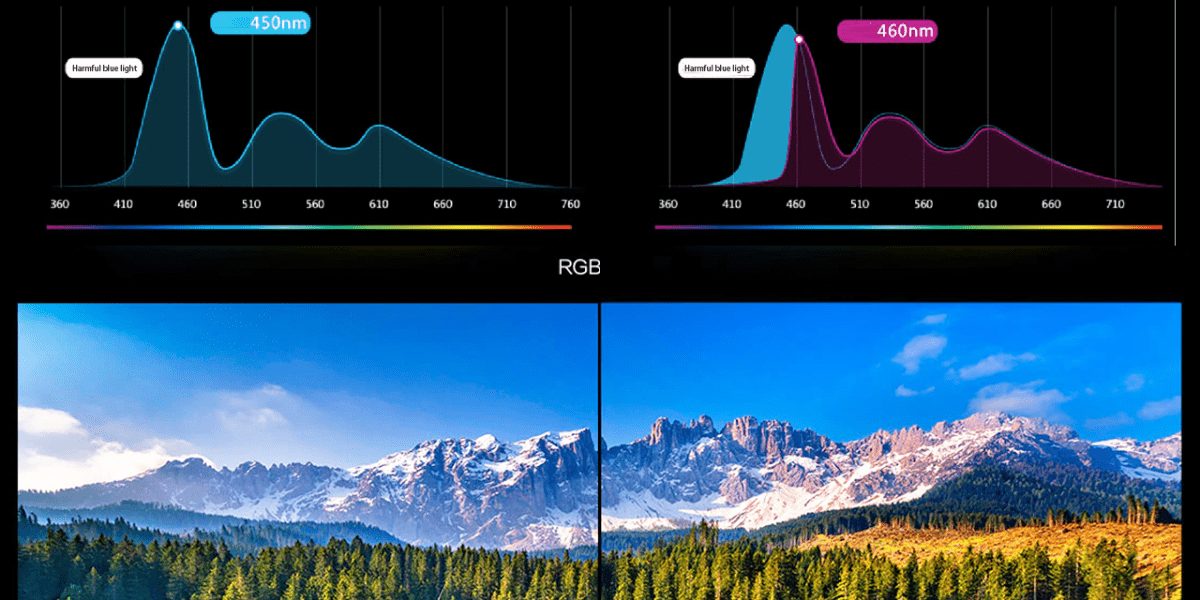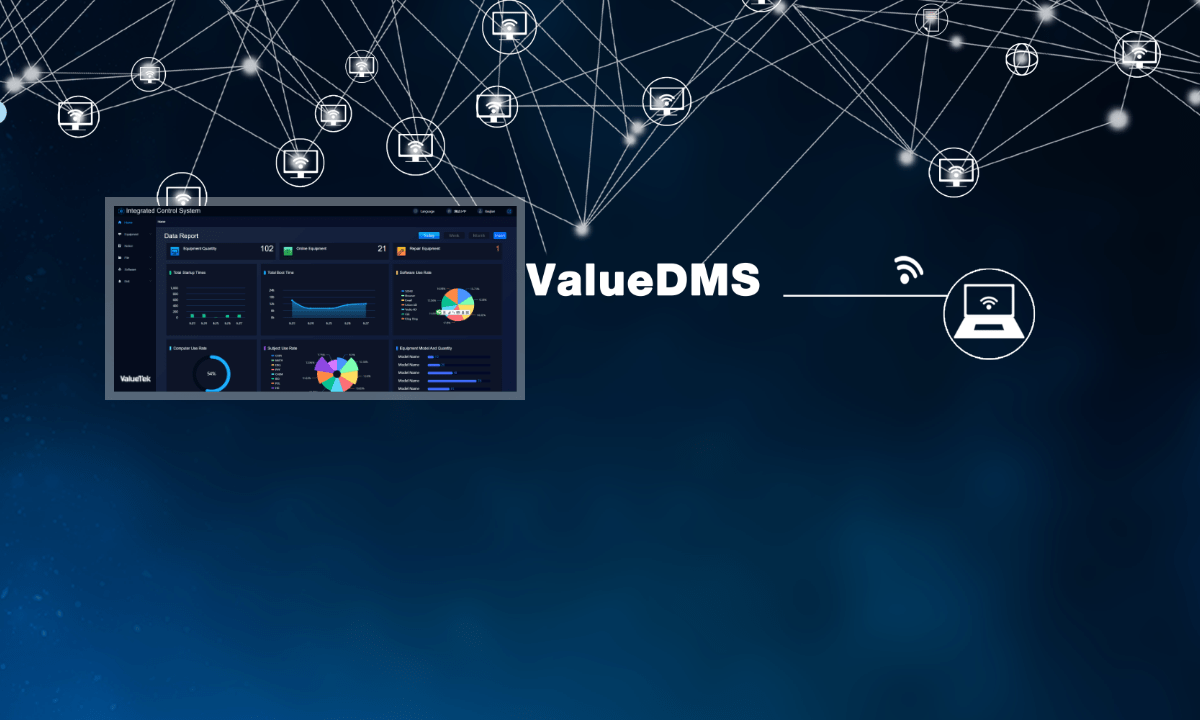 So Easy to Manage Devices Remotely with DMS
Monitor and analyze the status of devices
Turn On/Off remotely
Broadcasts
Remotely access connect on devices from anywhere
Compatible with Various Applications
Unlock unlimited possibilities with an open platform
Different demands on applications can be satisfied by installing various applications from the marketplace.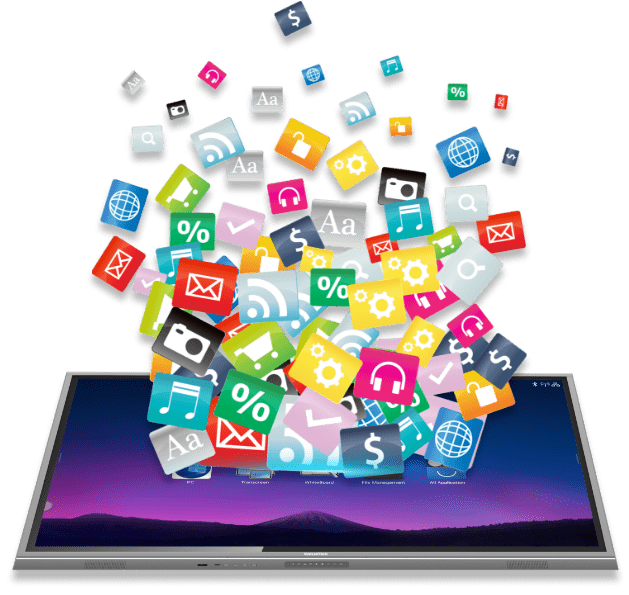 1. Screen-Lock
The graphic or digital lock can be set to lock the screen to prevent students from misoperation and protect important information of the courseware.
2. Powerful Teaching Tools at Your Fingertips
Abundant teaching tools come with our education software to make teaching and learning more easier. Create and deliver rich, interactive lessons.
3. Super Thin Design With Safe Handles
All in a sleek design with a thin frame of only 20mm for the top, left, and right sides, and with safe handles on each side for easy carry and installation.
4. Built-In All-Channel Annotation Software
Z Generation ValueHub Pro interactive display allows you to write and annotate on sources, so your writing experience can be easy and satisfying/ providing an enhanced user experience.
5. Shape Recognition
The multi-touch technology tracks touch intuitively and accurately. It recognizes the touch size and the shape of pens, fingers, augmented reality tools, and other solid objects.
6. Floating Tooling
Z Generation ValueHub Pro interactive display built-in Floating Tool empowers teachers to write on top of any app, video, website, document, or image. Whether using Windows, Mac, Chrome, or Android, a teacher can take notes on top of any on-screen content and save them. With screen capture, it allows users to capture all – or just part – of the screen with a simple touch and selection.
7. Toolbar
The Toolbar allows you to easily find and run the tool you need. The annotation feature works on virtually all file types.
The Toolbar also offers a smooth writing experience when used with HDMI, VGA, DP, Type C, and other signal sources, ensuring maximum flexibility.
8. Built-in OPS Slot
Z Generation ValueHub Pro interactive display supports OPS slots, allowing you to easily and conveniently mount an OPS* device at the back of the digital board without the hassle of connecting to an external desktop, offering you more expanded functions.
OPS: Open Pluggable Specification
9. Web Browser
Z Generation ValueHub Pro interactive display supports an embedded Android web browser, so you can search the web easily and quickly, without connecting to an external tablet or computer.
10. Create an infinite canvas
With both the whiteboard software, you can instantly turn your interactive display into a blank canvas without limits. Draw and write freely without worrying about running out of space, and save your work so you never lose a great idea.
11. EShare
The Built-in EShare application offers a wireless connection between the panel and personal devices like laptops, phones, and tablet computers, allowing up to four participants to share the contents simultaneously.
Either from ValueShare dongles or via the EShare application, presenting on a ValueHub Pro is effortless and trouble-free.
Application Scenarios
ValueSTek's products and solutions can be used for various environments such as Smart Education, Business Meeting, Intelligent Retail, Media Advertising, Smart Governmental Services and other industries.
Transform how you do business
Create flexible, dynamic workspaces that let team members contribute from any location or device – leading to faster results.
Center of every learning environment
Create dynamic interactive environments for classroom that engage students and empower teachers.
Recommended Products
ValueSTek related products are recommended for better experience.


Z Generation ValueHub Pro+ Interative Display Specification
Image
Model
VT-PD65Z-Pro+
VT-PD75Z-Pro+
VT-PD86Z-Pro+
Overall
Frame color
Black
Material
Aluminium metllicum (front)+metal (back)
Feature
Narrow bezel, more natural touch feeling, 2 handles for easier moving
Display
Diagonal size
65 inch
75 inch
86 inch
Effective display area
1430.4(H)*805.9(V)mm
1652.5(H)*929(V)mm
1897.04(H)*1068(V)mm
Contrast ratio
4000:1
4000:1
4000:1
Aspect ratio
16:9
Brightness

400cd/

㎡

(450cd/㎡ is customizable)
Backlight
DLED
Viewing angle
178°(V)/178°(H)
Refresh rate
60 Hz
Resolution

3840

(

H) X 2160(V)

Response time
≤ 5 ms
Glass

Fully heat-tempered anti-glare glass that resists smudges and fingerprint

,

providing paper-touch experience

Glass thickness
4 mm. Features Zero Bonding Technology for an upgraded touch resolution with a minimized contact height for more natural handwriting and significantly enhanced touch experience.
Built-in Android experience
CPU
ARM Cortex-A73*4 + Cortex-A53 *4(4 Core+4 Core)
GPU
G52*8(8 Core) 2.28GHz
Version
Android 11.0.0
RAM
8G LPDDR4
ROM
128 GB
Compatible video format
MPEG-2/4, AVS, H.264, H.265, AV1, VP8, VP9…
audio format
MPEG1/2 layer I/II, AAC, PCM…
Front port

TYPE-C*1,

USB3.0*2,

Back port

USB3.0*1,

RS232*,

RJ45 In*1,

DP Touch*1,

DP In*1,

HDMI IN*2,

MIC*1,

Android USB2.0*1,

Public USB3.0*2,

OTG USB2.0*1,

Earphone/Line Out,*1,

RJ45 Out*1,

HDMI Out*1

Speaker
2×20 W ([email protected]+/-3dB). With Triple-section Crossover mini loudspeaker to faithfully reproduce sound signals in real time, bringing you high fidelity audio exactly as it was meant to be heard.
Bluetooth
Built-in
WiFi
Built-in
Interactive experience
Touch technology
Zero Bonding Technology with advanced Infrared touch
Touch point
40 Points
Response time

≦

3.3ms

Accuracy

±0.5mm

(

90% active area located in middle). Offers higher accurate touch detection that delivers more smoother and realistic writing experience than ever. Users can write quickly and accurately without disruption using a pen or their fingers.

Minimum object size

2mm

(

Min. Gap between touches >25mm)

Touch screen sensor mode
Finger, writing pen or other non transparent touch sensitive medium
Resolution of touch screen
32768 x 32768
Anti-Interference
80000 Lux
Support system
Android/ Windows/ MAC(1Point)
Object recognition
Both thick and thin pens can be recognized (in different colors) and recognize large objects as erasers.
Touch pen
1 piece of pen with both thick and thin pen points, carried by magnetic tray
ESD

4KV

,

Release to ground by USB interface,

8KV

,

Release to air with direct connection

。

Camera
Lens
M12 (12mm in Diameter)
Sensor
8 million pixels
Installation location
Built-in camera has been fixed on the right frame of the display, 100mm down from the center line of the right frame, to keep same visual level when sitting for more nature virtual face-to-face experience, no more feel of being monitored under a built-in camera on the top of display.
View angle
126° (D)/ 120° (H)/ 85° (V)
Iris
F2.5
Focal length
2.72mm
Min. Illumination
0.5Lux (F1.8, AGC ON)
DNR

2D

﹠

3D DNR

Focus
Manual
Electronic shutter
Auto / Manual
Video adjustment
Brightness, Sharpness, Saturation, Contrast, White Balance, Gain, Anti-scintillation, Low Brightness Compensation etc. can be adjusted. The ISP processing technology and algorithm provide vivid image, uniform picture brightness strong light and color layers, high definition and excellent color reproduction.
SNR
≥50dB
Image format

MJPG

:

3840*2160P30/25, 1920*1080/1600*896 /1280*720 /1024*576 /960*540 /800*600/800*448 /720*576,

H264

:

3840*2160P30/25, 1920*1080/1600*896 /1280*720 /1024*576 /960*540 /800*600/800*448 /720*576,

YUY2

:

1920*1080/1600*896 /1280*720 /1024*576 /960*540 /800*600/800*448 /720*576,

NV12

:

1920*1080/1600*896 /1280*720 /1024*576 /960*540 /800*600/800*448 /720*576

EPTZ
Yes
Image bit streams
Support dual-stream output
Video Compression
MJPEG, YUY2, H264, H265, NV12
Microphones
Microphones array
MEMS Microphone
Microphones array
6-element
Pickup distance
8 meters
Frequency response
120 Hz–16 kHz
AI intelligent algorithms
AI face tracking
With a variety of advanced AI intelligent algorithms, it can automatically adjust camera position according to the number of participants and changes in location, presenting the best framing.
Echo Cancelling
The echo cancelling algorithm samples the sound from loudspeaker and send to Microphone, then and cancels out echo, therefore delivering a clearer voice.
Storage and operating requirements
Power supply
110-240V~50/60Hz
110-240V~50/60Hz
110-240V~50/60Hz
Power consumption
≤250W
≤300W
≤400W
Standby consumption
≤0.5W
≤0.5W
≤0.5W
Storage temperature

-

20

℃

~

60

℃

Storage humidity

10%RH

~

90%RH

Working temperature

0

℃

~

50

℃

Working humidity

10%RH

~

90%RH

Lifetime
More than 60000 hours
Others
Dimension
1598x869x99mm
1820x993x103mm
2065x1132x125mm
Net weight
45KGS
58KGS
81KGS
Gross weight
56KGS
68KGS
93KGS
Package size
1758x1029x230mm
1980x1153x230mm
2225x1292x250mm
VESA mounting

600

(

H

)

x 400

(

V

)

mm

600

(

H

)

x 400

(

V

)

mm

700

(

H

)

x 400

(

V

)

mm

Bracket
Yes
Yes
Yes
Power cable
Yes
Yes
Yes
OPS PC
H110, CPU: I7 10700/ I5 10400/ I5 9300H/ I5 8400/ I5 6400, RAM: 8GB/ 4GB, Flash: 512GB/ 256GB/ 128GB SSD
Certificates
CE, FCC, RohS



Professional and Perfect Service from ValueTek
---
How to produce high quality interactive display in ValueTek factory? Click here!

The warranty does not cover:
1. Mechanical or electric damages resulting from incorrect installation, configuration, usage.
2. Damages resulting from activities inconsistent with the operation manual or contradictory to technical specifications attached to the device.
3. Damages due to the user's fault or lack of knowledge.
---
FAQ
Q: Are you factory or trading company?
A: We are a OEM/ODM factory. ValueTek is one of the biggest manufacturers of intelligent display
Q: Can I get some samples?
A: Sample order is welcome. Price would be negotiated based on bigger quantity.
Q: Is it possible to have my logo on the products?
A: Yes. Please send your logo files to us first. Then we will offer you a solution. But we have MOQ for logo customized, MOQ depends on different products.
Q:What payment methods do your company accept?
A: We accept most of the payment methods, but mainly accept T/T, Western Union.
Q: Can you help me to customize my own products?
A: Sure. We have strong ability to customize your products. Please send us the details requirements, then our team will provide you a suitable solution soon.
Q: What is the warranty for your products?
A: Our standard warranty is 1 year. But customers can choose to extend warranty to 2 years or 3 years.
Q: What brand of screen are you using?
A: We are using A+ level full new original LCD panel from Samsung, LG, AUO and BOE.
Q: When will you make the delivery?
A: We can make the delivery within 5-25 working days according to different models and quantities of your order.
Q: What is your after-sale service?
A: Within the warranty, if it is the problem of products quality, non-artificial damage, we will ship new parts to customers for replacement of the broken parts, or customers ship the products back to our factory for repairing.
Q: I bought this LCD display, how to use and install it?
A: The products instructions and user's manual can be sent to you when you receive the goods. and the video of installing also can help you to know it better. If you have other question, our engineers also can provide you great support online.