Devices
Remotely centralized control of panels in campus, startup, shutdown and deep freeze.
United upgrade of OS and software.
Files
Documents can be delivered to the panels in schools remotely.
Information
Communicating critical information to students, teachers and staff quickly and instantly at any time is vital for any school.
Ring
Ring the bell regularly when class begin/ over or school over.
ValueDMS
Make remote campus-wide devices management so easy
As an IT admin or school admin, you know how tough it is to manage the hundreds of devices and displays that live on your school network. Now with ValueDMS's easy-to-use device management solutions, you can securely set up, manage, monitor and maintain all of your school's devices from a centralized dashboard.
Device Management
Easily manage all Valuehub devices campus-wide
ValueDMS is a software designed for the unified management of ValueHub Interactive Displays in school. The cluster management functions include operation monitoring, panel grouping, status monitoring checking, statistics of equipment information, etc..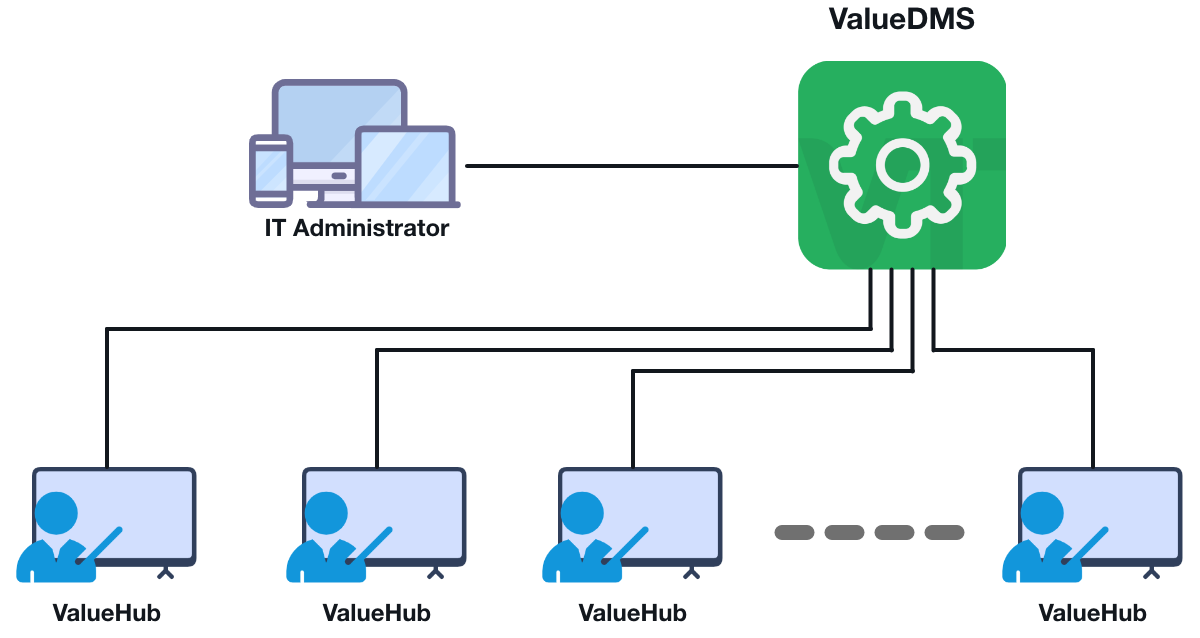 Remote and Timer On/ Off
Manage multiple devices from any location
Remotely view the working status, and performance status. Monitor the status of devices such as On/ Off directly and regularly from the administration (admin) portal.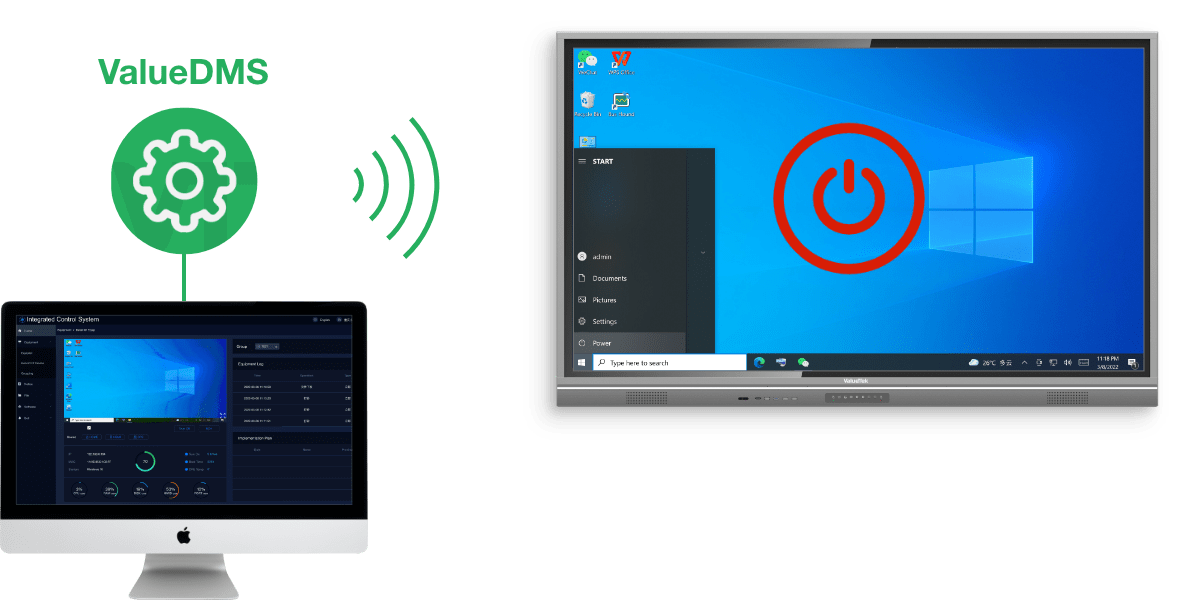 Unified File Transfer, Software Installation
United file transfer and software installation with just by one-click
Send the specified files or install the specified applications to select ValueHub Interactive Displays for unified management from the admin console.
Multimedia Bulletin and Broadcasts
Broadcast messages, images and bulletins anytime
Instantly send standard or urgent messages to select devices from the admin console. A siren can also provide visual and audible warnings for urgent messages.

Ring the Bell Regularly
One device, multi-use
One device, multi-use, to manage devices, to ring the bell regularly.
Application Scenarios
ValueSTek's products and solutions can be used for various environments such as Smart Education, Business Meeting, Intelligent Retail, Media Advertising, Smart Governmental Services and other industries.
Transform how you do business
Create flexible, dynamic workspaces that let team members contribute from any location or device – leading to faster results.
Center of every learning environment
Create dynamic interactive environments for classroom that engage students and empower teachers.
Recommended Products
ValueSTek related products are recommended for better experience.


The part in yellow will be realized later.
1. The backend console is designed with B/S architecture, which can be operated on many different operating systems such as Windows, Linux, Android, IOS, etc. through web browser login, and can control ValueHub Interactive Display terminal devices in the LAN.
I. Regional Control:
2. ValueDMS supports regional centralized control function, which can be managed hierarchically across schools and network segments in certain area so that it is convenient for relevant education departments to unify the supervision of equipment in the whole area and understand the overall usage of equipment.
3. Data statistics in the form of charts for all equipment usage in all areas, supporting statistics within a certain period, and also by day, week and month.
4. Regional data summary: The regional console can summarize the usage data of all the connected ValueHub Interactive Display in the region and automatically output data charts, which can be viewed including the total number of devices, the number of online devices, ranking of each school's usage activity, terminal usage hours, software usage and other data charts.
5. Regional school classification data: The regional console can individually retrieve the usage data of all connected ValueHub Interactive Display of all schools in the region and automatically output data charts to view data reports such as bar charts of the number of times devices are started in the whole school, the number of hours devices are turned on in the whole school, and the usage of each subject in the whole school.
6. Regional device management: The regional console can monitor the on-off status of the connected ValueHub Interactive Display in the region in real time and view their desktop screen in real time and synchronously. Support single and multiple devices to be viewed at the same time.
II. Campus Control:
7. Account management: The super administrator can assign management rights to multiple administrators to jointly manage the devices under control; the super administrator can view the operations performed by ordinary administrators, and can manage the rights of ordinary administrators and open appropriate rights according to the responsibilities of different administrators.
8. Grouping management: Administrators can group all school devices according to grade, floor and custom mode; they can also assign the control of ValueHub Interactive Display and monitoring rights to corresponding general administrators for grouping management.
9. Device details: You can view the status of all devices in the LAN, including online and offline status, overall evaluation score of device usage, device name, current signal source, memory usage rate, CPU usage rate, C disk usage rate, volume, audio mode, and energy saving mode. Support query filtering by device type and device name; support display by list and display by thumbnail.
10. Remote device monitoring: Real-time monitoring and viewing of the current device desktop, supporting simultaneous viewing of multiple devices.
11. Remote device control: The console webpage can control the connected ValueHub Interactive Display in real time, including switching on/off, energy saving enable, volume adjustment, switching signal source, changing image, audio mode, locking screen, brightness adjustment and other functions.
12. Instant operation control: Support single or multiple devices with remote shutdown, restart, touch switch (lock, unlock), signal source switch, volume adjustment, brightness adjustment, system backup/restore, audio mode switch, remote energy-saving switch and ringing operation.
13. Timing operation control: Support single or multiple devices with timing shutdown, timing restart, timing ringing, timing switching signal source, timing information release can be done remotely for selected single or multiple devices, realizing single time, daily cycle, weekly cycle, monthly cycle, working day cycle timing control. Support timed operation list query and re-editing of a specific timed operation.
14. Remote control: On the device details page, the desktop of the selected device can be controlled remotely for easy school management.
15. Operation list: Support to view operation list, view immediate operation, timing plan, information release, etc.; contains the content of the issued command, execution time, execution content, the result of execution, the number of failed devices, etc.; can modify a specific timing operation; and can view the name of the timing plan, command, execution content, plan status, etc.
16. Information release: It can release plain text information to any selected single or multiple devices instantly and regularly, support full-screen desktop type and scrolling release type, set the number of plays, play position, speed of play, support re-editing; support setting font size and font color; support setting whether to close the content released in the terminal.
17. Information release: provide no less than 100 kinds of templates to choose from, providing classification of templates according to various scenarios as well as common use.
18. File management: Support multiple files pushed to any selected single or multiple devices, including text, images, pdf, word, excel, ppt, flash, audio and video files in various formats.
19. Software management: Software can be uploaded to the centralized control platform, and software can be installed/uninstalled remotely to facilitate the management of software on terminal devices.
20. Data statistics: The console can generate several data reports according to the equipment usage, including the number of times of power on, the length of time of power on, the number of times of software usage, the rate of discipline usage, etc., which is convenient for the administrator to understand the equipment usage.
21.Log management: Support to view all operation records of execution and distribution management, which is convenient for school management.
III. Classroom Client:
22. Each school/area using the campus centralized control management system has an exclusive code, and ValueHub Interactive Display in that school/area can be remotely managed by the administrator in the background simply by accessing the Internet and entering the code in the client.
23. You can view the basic information of the device on the desktop of ValueHub Interactive Display, such as: size, resolution, system, CPU, etc., which is convenient for the lecturer to manage the device.
24. It supports setting the name of classroom client according to the grade and class where the ValueHub Interactive Display is installed, which is convenient for the administrator to manage correspondingly.