Business Ethics And Integrity
ETHICS AND INTEGRITY
ValueSTek IS FULLY COMMITTED TO OPERATING IN AN ETHICAL MANNER WITH INTEGRITY AND TRANSPARENCY.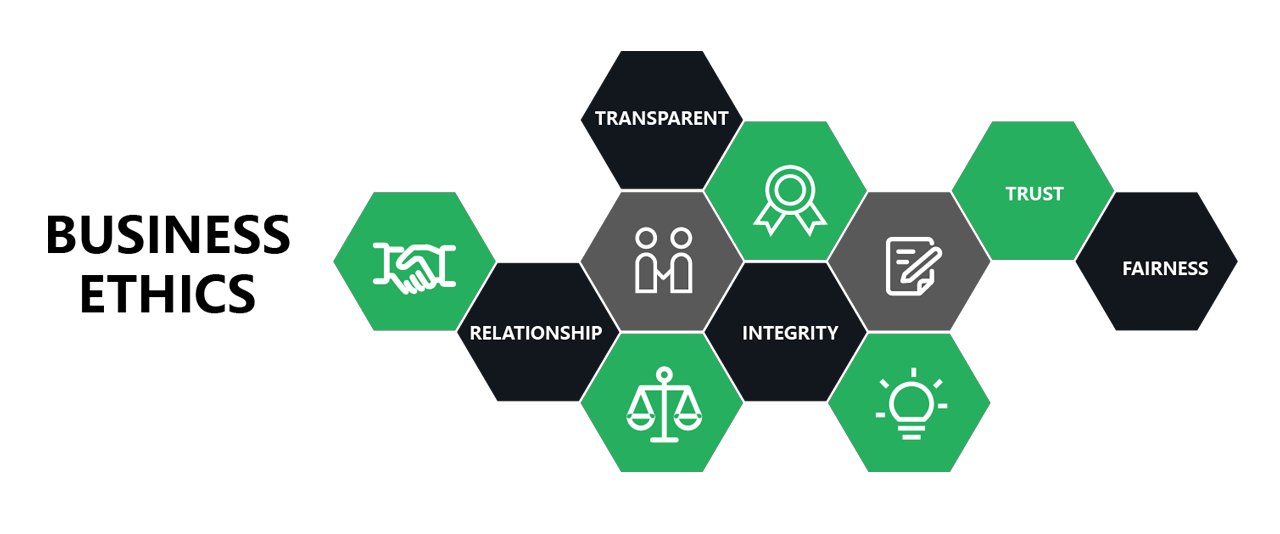 1. Preface
At ValueSTek and our affiliates (collectively, "the Company"), we strive to maintain a corporate culture respectful of firm ethical principles and compliance with all applicable laws, rules, and obligations.
We recognize that a firm sense of ethics and compliance among our executives, managers and employees(collectively, "Employees") in the execution of their duties is the foundation of our success and continued growth as a world-class company. Our core ethical values are stated below in our Ethics Charter.
2. Respect, Duties, and Responsibilities to Customers and Shareholders
The Company's existence, including its medium to long-term growth and development, depends on its customers. Employees shall always respect customer opinion and shall provide services and conveniences that are useful and valuable to the customer, in order to gain the continual trust of the customer. Employees should work to create long-term, sustainable profitability for the Company's shareholders and respect their right to request and receive truthful and accurate information.
3. Accuracy in Accounting and Financial Reporting
All Employees must record all transactions accurately in the Company's books and records and must not make or cause another to make any false or misleading entries in the Company's accounts or financial statements.
4. Respect for Individual and Human Resource Development
Employees shall respect each other as equals. Supervisors shall treat subordinates fairly and rationally based on individual capability and performance. Employees shall make every effort to help the Company grow through their continual professional self-development and creative efforts.
5. Fair Dealings and Respect of Vendors
All transactions with the vendors shall take place based on the principles of free competition where equal participation of qualified vendors is encouraged, and the Company shall build mutual trust based on fair and transparent transactions to pursue medium to long-term business relationships.
6. Pursuit and Establishment of Transparent Business Relationships
We shall conduct all business with transparency and strive to provide mutual benefit to our customers and business partners, including vendors. We shall refrain from accepting any unlawful favor that can infringe upon the fairness of transactions and not receive or provide any unlawful gain.
7. Respect for Confidential and Proprietary Information of the Company and Business Partners
Employees shall not misuse or misappropriate any confidential or proprietary information of the Company or its business partners or use such information to enrich themselves or others. Further, Employees shall not engage in any securities transactions based on such information acquired in the course of their duties at the Company.
8. Compliance with Applicable Trade and Competition Laws
Employees shall comply with the laws of all countries where the Company operates, respect the applicable generally accepted business practices and customs, and engage in fair and transparent business activities based on the principle of free-market competition in order to become a competitive company that sets a global example.
9. Contribution to the Community
The Company commits to driving positive change that brings value to its people, customers, environment, and the communities where it operates. At the same time, the Company strives to maintain outstanding professional, operational and environmental standards in the development of cutting-edge, high-quality products and works to understand and incorporate the stakeholder interests into the business strategy to build a positive and sustainable future for all involved.
To realize these principles, all Employees must comply with the Company's global Ethics Policies, which are enacted separately and shall be provided to every employee.