How ValueSTek Interactive Flat Panels Inspire Inspiration?
ValueSTek recently helped equip an international language school with Z Valuehub interactive flat panels, allowing them to gradually switch from traditional whiteboard instruction to interactive instruction.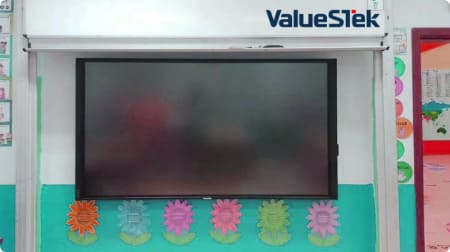 Teachers now have the power to annotate, collaborate, stream content, and download, and upload documents to the cloud, all from one device and at the touch of their fingers.
Specifically designed for education, ValueSTek's portfolio of Interactive Flat Panels (IFPs) is reshaping the future of learning. By combining resilient hardware with intelligent software and a user-friendly interface.
ValueSTek's Interactive Flat Panels are a classroom-ready solution that encourages a truly collaborative and inspiring learning experience for teachers and students of all ages.
IT managers and administrators have the freedom to manage and maintain the ValueSTek IFPs from a remote location. The system provides an efficient and convenient way of managing accounts on ValueSTek IFPs and provides personal workspaces to each member of staff, which can be accessed from the cloud.
Connectivity compatibility, missing wires, security threats, and time-consuming set-up can often result in a lack of collaboration. ValueSTek has removed these frustrations with its VT-WD01 by building in high-speed WiFi to the device, offering a range of connectivity and trustworthy security protection.
Kids love to "be in charge" of the classroom during lessons. Teachers could use built-in mirroring software E-share to wireless connect iPad/laptop to ValueSTek interactive flat panel. Students get to take turns clicking through PowerPoint presentations or pressing Play on YouTube videos.
ValueSTek is constantly improving its modern educational solutions in order to help more schools to improve their teaching efficiency. Interested parties are welcome to inquire for more details.