Introducing Brand New Arrival: Z Generation Interactive Display
With the rebrand of ValueSTek, Z Generation Interactive Display, a brand new design is introduced grandly to the market at the same time. This model brings you a more immersive experience from vision, hearing, and touch.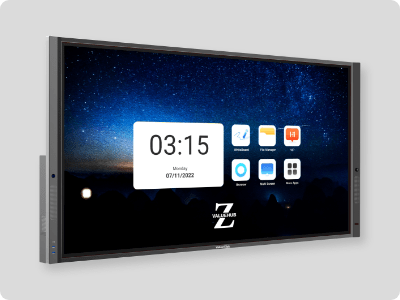 Inspired by the design of the traditional Chinese furniture Qiaotou An (Recessed-leg table with evened flanges), Z Generation Interactive Display creatively sets the camera at the same height as the human eyes' height at the side of the interactive display, and rotates the lens inward by 16 degrees, aiming to keep same visual level when sitting for more nature virtual face-to-face experience, no more feeling of being watched under a built-in camera on the top of the display. Both the height and the angle of the camera are ergonomically designed, which has been applied for the patent. Plus, the AI automatic face-tracking to frame participants in the middle of the picture, with the optimized built-in mic and sound reinforcement system, brings you more immersive video conferences.
Offering two triple-section crossover loudspeakers to restore the sound of different frequency bands, unleashes a powerful bass, warm and clean mids, and bright and clear highs. It has a wider frequency response range and better restoration, and truly restores the sound environment that it should be, comparable to professional audio.
Upgraded touch resolution with advanced Zero Bonding technologies, Z Generation Interactive Display gives you a smoother, natural pen-to-paper-like writing experience.
Z Generation Interactive Display includes ValueHub, ValueHub Pro, and ValueHub Pro+ for different application scenarios of education, work, and commerce, helping you explore more in immersive learning and working to the next. Read all product introductions in the links below:
The New arrival Z Generation Interactive Display helps people learn, connect, communicate and cooperate in a better way.