Should PTZ or ePTZ Cameras be chosen in a Conference Room?
As technology continues to evolve, cameras address the traditional limitations of USB video conferencing solutions by streaming IP from the camera onto the network and decoding, scaling, and bridging it to the host PC through a decoding device.
Now in video conferences, the most commonly used cameras are PTZ cameras and ePTZ cameras. So what are they? Is there any difference between them?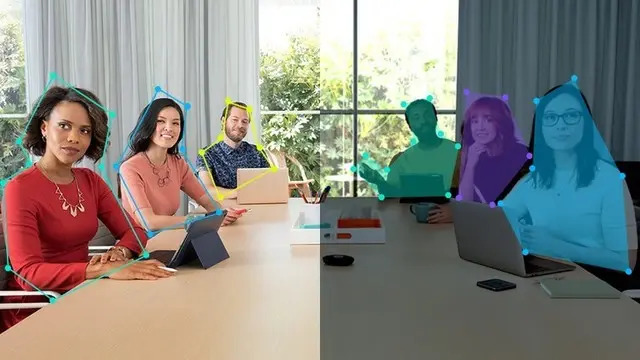 What is an ePTZ camera (electronic pan-tilt camera)?
ePTZ cameras provide a motorless PTZ experience, allowing the user to zoom in on an image or perspective, crop the image, and move around the frame. Because the images are digitally processed, different camera position presets can be easily recalled without the mechanical camera rotation of the past, a feature that works perfectly with the Auto Camera Preset Position Control plugin.
The ePTZ camera provides a wide 110°-120° horizontal viewing angle, making it ideal for wide rooms where the distance between the lens position and the farthest seat is relatively close. It also features a 4K-format image sensor that outputs IP streams at 1080p resolution, allowing users to digitally zoom up to 3x or 5x while still maintaining the native resolution.
What is a PTZ camera?
PTZ camera refers to the PTZ camera. They offer a better look than traditional cameras and have 4K image sensors capable of outputting 1080p IP data streams, allowing them to produce better, sharper, and more fidelity pictures.
Each PTZ camera offers an optical zoom lens (ranging from 10-20x zoom), which provides a clearer image when fully zoomed in.
For long, narrow rooms, such as conference rooms, a PTZ camera may be ideal, as the camera's lens moves away from participants in the room to capture all participants (panorama) and provide higher-quality images.
Difference between PTZ camera and ePTZ camera
The main difference between ePTZ cameras and PTZ cameras is the degree of zoom.
PTZ cameras use optical zoom, so image quality is not affected by zoom. If you zoom in on a 1-megapixel camera to the farthest point, you can still have a 1-megapixel image.
But with ePTZ, everything is digital. The image becomes pixelated when zoomed in because you are stretching the original image. If you zoom in by a factor of 4, the image resolution will effectively be reduced by a factor of 4. ValueSTek offer different ePTZ cameras and PTZ cameras, for mini and small room, fit ePTZ cameras, for the middle room, larger room, and professional room using PTZ cameras will be better.