3 Modes
Full screen writing, transparent annotation, and screen control.
Multi-Pens
Various types, colors, sizes of the pen available for seamless user experience.
Tools
ValueBoard-Edu comes equipped with rich teaching tools that make learning fun.
TwoColorPen
Present small and large size and different colors with the pen point and pen tail of only one pen.
ValueBoard-Edu
Engage students, empower teachers
Designed for education, ValueBoard-Edu is the digital learning tool for transforming lessons into active, collaborative teaching and learning experiences with rich functions like 3 modes, TwoColor Pen, E-book, Record, Multi-screen, different pens and colors and more.
ValueBoard-Edu delivers improved outcomes for teaching, learning and collaboration in the lesson.
3 Modes of ValueBoard-Edu
Write, draw, and inspire new idea
Showing a full screen writing in a class, a real feel to enjoy the teaching. One click switches to PowerPoint mode, to write and share your idea anywhere and anytime. Like using a larger tablet transparent annotation mode to access everything you need from any source. 3 work models switch randomly, let the class smarter and more interactive.

TwoColor Pen
Never miss any different idea
Equiped with TwoColor Pen in a ValueBoard-Edu allows teachers and students to have two colors and two types for annotation with only one pen easily. To freely set up the colors and lines with the thick and thin nibs of a pen provides teachers and students with non-interference while they write simultaneously. Easy switch between the thick and thin nibs to annotate with pixel-perfect precision and unmatched versatility.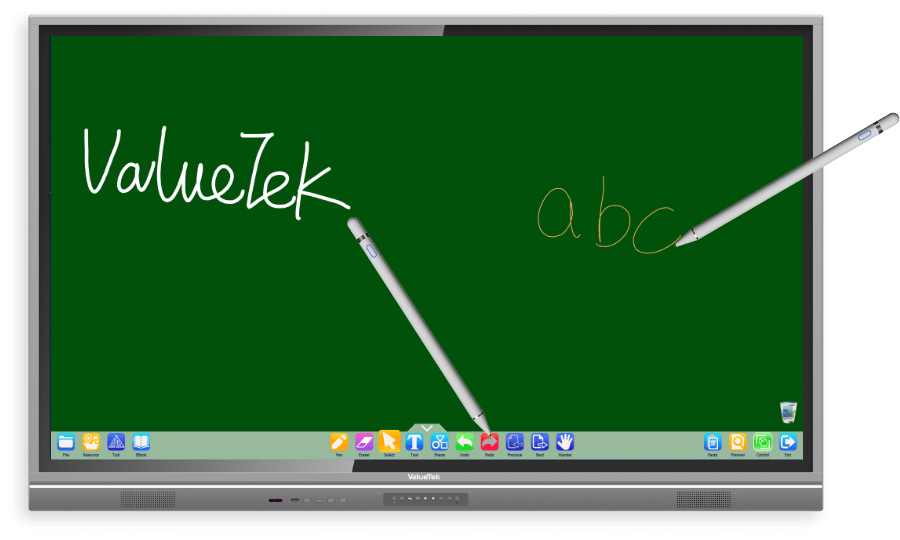 Rich Pens and Colors
Extremely diverse shape of ValueBoard-Edu pens and colors
Normal pen, Row pen, Soft pen, Magic pen, Rainbow pen, Smartpen… Choose various pens to write, draw, annotate, and mark, let others will follow your idea. This facilitates efficient discussion and enriches your writing and presentation tools.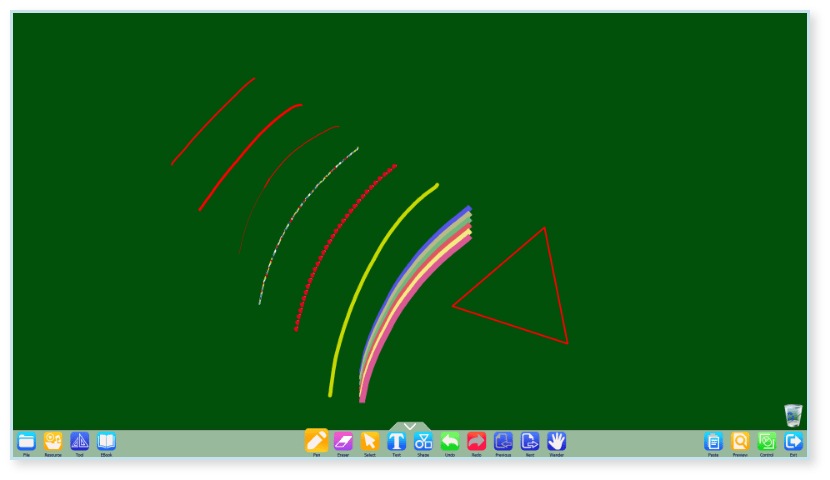 Variety of Teaching Tools
Offer more possible and creation in a lesson
Shapes, ThinkingShaft, Spotlight, Handwriting recognition, Maths tools, and more help teachers create imaginative classes. The newly designed interface makes ValueBoard-Edu easy to use, and gives a fast, smooth, simple experience, helping students to learn easier.

Ebook
Build your own interactive teaching materials
More teaching resources are always welcome but teachers also have their original idea that to be built and presented during lesson. Ebook helps teachers easily to create their own interactive media with audio and pictures for teachable content. Any silent paper material, pictures can be turned to vocal and spoken format. It helps to have remade content to use as building blocks for an effective lesson, more smarter, more interactive.

Visualizer
More potent than ever for teaching and learning.
Connect a document camera for HD resolution images to show paperwork, capture the tiniest details of your materials without pixelation in Biology class, and perfectly reveal details from close-up to full shots of various objects. Moreover, all shots can be shown on the ValueHub Interactive Display for annotation, zooming in and out, and rotating. It is a powerful tool for teaching and learning.

Screen Record from ValueBoard-Edu
Make review more easier
Record your whole lessons to playback at a later date, or share with students or colleagues. ValueBoard-Edu offers class records even for writing tracking, and wireless distribution through like email, and QR codes to all students, present or absent while eliminating the clutter of handwritten class notes.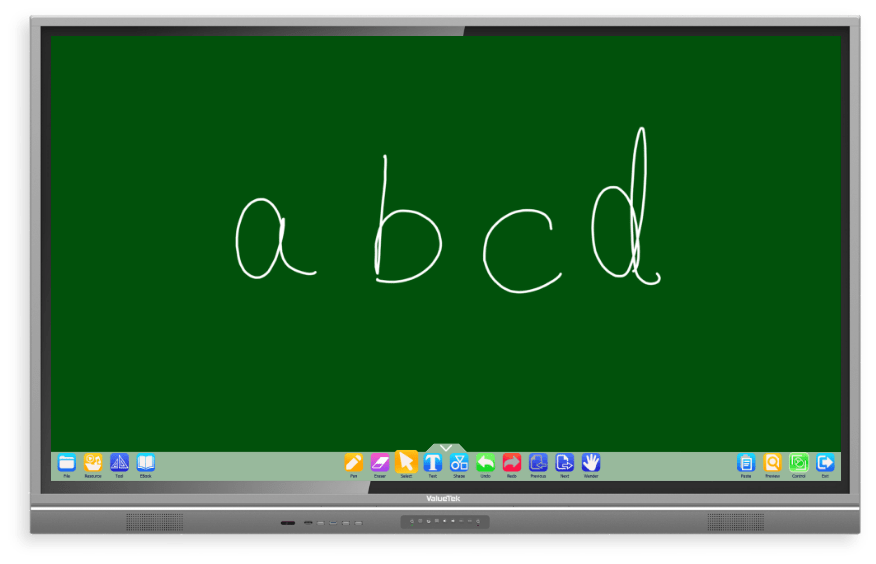 Application Scenarios
ValueSTek's products and solutions can be used for various environments such as Smart Education, Business Meeting, Intelligent Retail, Media Advertising, Smart Governmental Services and other industries.
Transform how you do business
Create flexible, dynamic workspaces that let team members contribute from any location or device – leading to faster results.
Center of every learning environment
Create dynamic interactive environments for classroom that engage students and empower teachers.
Recommended Products
ValueSTek related products are recommended for better experience.


Lesson preparation mode:
Text Input: Supports text box input and intelligent handwriting recognition at any position on the full screen, providing no less than 30 preset font choices. Recognize handwriting as text anywhere on the page, support cursive and fuzzy recognition, and support English and Chinese recognition.
Text Box: Supports text input and can quickly set font, size, color, bold, italic, underline, and bullet, which is convenient for text input. You can set the alignment, indentation, and line-height of the text.
Basic Strokes: Support ordinary pen, combination brush pen, soft pen, texture pen, highlighter, smartpen, laser pen, color pen, magic pen. Among them, the texture pen presets 12 textures, the smartpen can turn the drawn patterns into regular polygons and curved shapes, and the magic pen presets 12 patterns for use.
Graphic Editing: Supports operations such as copying, cutting, pasting, cloning, locking, deleting, adjusting, and layer position for graphic objects, and can also link to network domain names for teachers to quickly call network resources.
Page Playback: Support page playback function. You can playback any selected page without recording manually in advance.
★E-book: Provide no less than 9 kinds of background templates, provide e-book courseware templates, according to the template can be simple and quick to produce audio-book courseware containing pictures, sound, and video; and can be flexible to set the text and sound content, word by word pronunciation, control the playback content. If the school needs it, it can provide a free e-book-making service, convert school textbooks into e-books that can be downloaded and used by this software, and provide a free e-book download platform.
★Thinking Shaft: Provide Thinking Shaft teaching tools, teachers can freely set content nodes on the horizontal axis, and add text, images, videos and hyperlinks in the nodes, the added content supports zooming, annotating, and the horizontal axis can be dragged left and right.
Three modes: Full-screen writing mode, PPT annotation mode, transparent page annotation mode, etc.. In full-screen writing mode, it replaces the blackboard for writing; in PPT mode, it can turn up and down the pages of PPT, annotate, fast page browsing and positioning, one-key black screen, insert local audio files, and switch between PPT mode and full-screen mode with one key; in transparent page annotation mode, it can annotate any content on the screen, including dynamic videos, etc.
Multi-language: 20 languages such as English, Japanese, Portuguese and Korean are provided, and the software language is automatically switched with the operating system language.
TwoColorPen: Realizes different writing colors and sizes for the pen tip and supports configuration of colors and sizes, and is compatible with the calibration of different touch pen models.
Intelligent Recognition: The smartpen automatically recognizes irregular shapes such as triangles, circles, rectangles, lines, ellipses, arrows, etc.
Smart Annotation: The laser pointer can be annotated, and the annotations will gradually fade and disappear without the need for additional erasure.
Multi-screen Writing: Supports 2/3/4 number of split screens, each screen can use different color pens to write as well as erase, without interfering with each other. Improves classroom interactivity.
Eraser: Provide no less than 5 erasing methods. You can erase the handwriting on the screen at any time in a variety of ways. You can use the traditional large, medium, and small eraser tools, you can also choose to erase with the back of your hand or the marquee erase tool, or you can directly clear the current page.
★Erase while writing: Supports erasing while writing. Simultaneously, they do not interfere with each other.
The software menu toolbar can be hidden to enlarge the screenwriting area.

Customization: Support users to set the icons of the toolbar according to their habits, and add up to 13 function buttons. It is convenient for teachers to personalize the arrangement and teach easily.

Object menu: Any content in the software can be cut, clone, copy, delete, layer change, mirror, lock, add links, combine, rotate, scale, effect settings, object save, and other functions.

Commonly Used Gadgets: 17 kinds of interactive teaching applicable tools are provided, such as screen shade, spotlight, caption broadcast, lock, screen recording, playback, writing roaming, magnifying glass, clock, calculator, trash can, page editing, screenshot, search engine, and small blackboard.
18. Screen Shade: Support to cover part of the page, support to adjust the size of the curtain from the top, bottom, left and right four directions, and support to drag any position, more convenient for teachers to adjust with the needs of the lesson.
19. Spotlight: Support only displaying any one closed area in the page, while other areas are covered by the mask; support dragging any searchlight in the page to change the position of the searchlight in the page; provide four shapes of searchlight tools as ellipse, triangle, rectangle and pentagram, users can choose any one shape of the searchlight for operation.
20. Lock: Provides a way to set a password to lock the screen with one click to prevent students from touching it during class. The teacher can enter the password to access to the whiteboard with one click to improve the efficiency of the class.
21. Teaching Tools: 5 kinds of mathematics teaching tools are provided: straightedge, isosceles triangle board, right angle triangle board, circle rule, and protractor.
22. Translation and Pronunciation Function: Built-in English-Chinese dictionary function, you can select a text content, translate between Chinese and English, and combine the voice reading function to read it out directly, supporting male and female voice pronunciation.
23. Document Camera: Built-in document scanner function (not independent document scanner software), which can realize the control of overhead projector, including selecting video signal input, setting resolution, zooming in and out of images, taking screenshots to save to whiteboard page in the form of pictures, annotating directly on pictures, and other functions.


Professional and Perfect Service from ValueTek
---
How to produce high quality interactive display in ValueTek factory? Click here!

The warranty does not cover:
1. Mechanical or electric damages resulting from incorrect installation, configuration, usage.
2. Damages resulting from activities inconsistent with the operation manual or contradictory to technical specifications attached to the device.
3. Damages due to the user's fault or lack of knowledge.
---
FAQ
Q: Are you factory or trading company?
A: We are a OEM/ODM factory. ValueTek is one of the biggest manufacturers of intelligent display
Q: Can I get some samples?
A: Sample order is welcome. Price would be negotiated based on bigger quantity.
Q: Is it possible to have my logo on the products?
A: Yes. Please send your logo files to us first. Then we will offer you a solution. But we have MOQ for logo customized, MOQ depends on different products.
Q:What payment methods do your company accept?
A: We accept most of the payment methods, but mainly accept T/T, Western Union.
Q: Can you help me to customize my own products?
A: Sure. We have strong ability to customize your products. Please send us the details requirements, then our team will provide you a suitable solution soon.
Q: What is the warranty for your products?
A: Our standard warranty is 1 year. But customers can choose to extend warranty to 2 years or 3 years.
Q: What brand of screen are you using?
A: We are using A+ level full new original LCD panel from Samsung, LG, AUO and BOE.
Q: When will you make the delivery?
A: We can make the delivery within 5-25 working days according to different models and quantities of your order.
Q: What is your after-sale service?
A: Within the warranty, if it is the problem of products quality, non-artificial damage, we will ship new parts to customers for replacement of the broken parts, or customers ship the products back to our factory for repairing.
Q: I bought this LCD display, how to use and install it?
A: The products instructions and user's manual can be sent to you when you receive the goods. and the video of installing also can help you to know it better. If you have other question, our engineers also can provide you great support online.