2023 Best Interactive Screens Buying Guide
An interactive screen is a mounted device that enables users to make vibrant visual presentations and control on-screen data through digital touchscreen interactions. It is a large display unit or panel that is driven by a computer. They might look like large television screens, however, they are digital devices that allow users to access their computer files and interact with them in an engaging way, as well as create new content.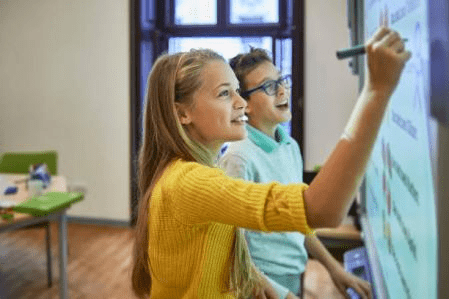 Interactive touch technology engages students like never before, allowing increased collaboration and efficient learning. It is both simple and intuitive, providing teachers with the latest and most responsive interactive screen technology to support active and inspired learning.
What is an interactive screen used for?
Interactive screens have several uses. For example, there are interactive screens for businesses and interactive screens for classrooms. Although they will be used in different environments, they have very similar features.
Interactive screens can be used to present documents, information, and videos to different groups. For example, they're great for presenting to a group of students in a classroom or during a meeting in a business environment. Interactive displays for the classroom allow teachers to communicate content to students in a completely new way. This can be extremely beneficial for those students who have trouble engaging with traditional forms of presentation.
A key feature of interactive screens is digital annotation, or the ability to annotate documents and files in an electronic way. In the same way that you can write on a traditional blackboard, an interactive screen allows you to essentially write using digital ink in a variety of colors. For example, you may choose to write a series of words, numbers, or diagrams on a blank white surface, or you may want to make annotations on top of an existing document or image. In addition, the touchscreen display will allow you to save this marked-up file as a new image, which you can then save to external devices, email, or print.
What are the benefits of Interactive Screens?
Speed
Interactive touch screen displays allow you to save time. They respond to commands faster and reduce the time it takes to navigate through a process and present results. If you own a restaurant and would like to take orders from your customers, using a touch screen will help reduce the time required to post an order. As a result, customers are served faster.
Easy to Use
Large touch screen displays are easy to use. Using your finger to point and touch is highly intuitive. Therefore, learning how to use a touch screen is very straightforward. It is easier to navigate any device using touch, whether it is a phone or a computer. If you have new employees coming in, they do not need a lot of training to be able to use your touch screen displays.
Space Saving
Interactive displays help you to save on space. Computers that have a touch screen display use up less space as opposed to other regular monitors that must have a mouse and keyboard on the table as well. This helps to conserve space and is beneficial especially if you have a small establishment. You can make better use of the space. It also reduces the number of wires criss-crossing your workstation.
Durable
Interactive touch screen displays are durable. The material used on the displays is hard glass which can withstand a lot of force in case of an accident. They are also very easy to clean as all you need to do is wipe them. These displays are best used in areas where many people must use computers to access a system. You'll find examples of this in hospitals, schools and restaurants. Touch screens also excel in these environments because cleaning and maintaining them is easy.
Accessibility
For those who are limited in one way or another, interactive displays are the best. If you have trouble seeing all the letters on the keyboard, a touch screen can help you by making things larger and more accessible.
Improved Efficiency
Large touch screen displays also help to improve efficiency because they allow you to do your work faster. The turnaround time for any project is much faster with a touch screen display than with alternatives.
Interactive displays are the way to go when it comes to schools and businesses like restaurants or even hospitals. They improve turnaround time and ease of access. This makes work easier and results in significant savings of time and other resources. A touch screen also improves the efficiency of staff members which leads to higher profit margins.
Use of interactive screen for business
Interactive screens utilize the touch technology that we are all familiar with on our smartphones and tablets and bring it into the office environment.
They allow presentations to become more dynamic, engaging, and inclusive. Rather than just having a presenter stand at the front and run through some PowerPoint slides, colleagues can join in by adding writing or drawings to the screen, making the session much more interactive and memorable.
In meetings, there is also the opportunity for members of staff to collectively add their ideas and suggestions to documents quickly and easily, allowing everyone to play a role rather than just sitting and listening.
The content that is created on the interactive screen can be shared between staff members quickly and easily for use during and after the session.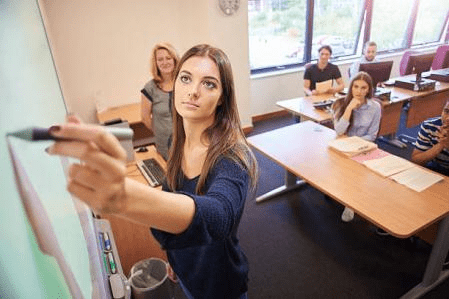 Using an interactive screen for education
Two-way screen sharing allows teachers to share any pre-prepared documents to the interactive screen from their own iOS or Android device, as well as share any content that is created on the screen to students' laptops or tablets.
Many interactive screens come with free-to-download content, offering teachers and lecturers the chance to access a vast library that they can use to enhance their lessons. From videos to scientific calculators and games, this content makes the learning environment far more engaging.
Interactive screens allow teachers to focus less on the delivery of their teaching materials and more on the content they have prepared, as digital resources can be easily tweaked during lessons.
Thanks to high-definition screens that are now clearer, crisper, and brighter than ever, students are able to clearly make out the content wherever they are seated in the class.
For those students who may not like speaking up in class, interactive screens allow them to have their voice and opinions heard without the need to actually speak. This helps unlock their potential and allows them to actively engage in their own learning in a way that they feel comfortable with.