How do I use a Smart Interactive Display in the Classroom?
Most of us grew up using chalkboards in school and traditional dry-erase smart interactive displays in our professional lives. Those analog technologies will probably always have a place in the world, but if you've ever used a smart interactive display, it's clear that digital technology has a huge upside.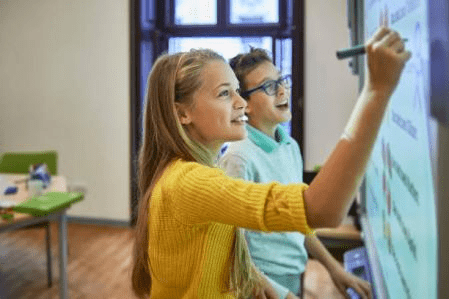 School systems and higher education institutions are among its biggest adopters, and educators appreciate how smart interactive display enrich their classrooms and student learning.
What is a smart interactive display?
An interactive display sometimes called a smart interactive display or electronic whiteboard is an educational technology tool that allows teachers to display their computer screen or mobile device's screen onto a whiteboard mounted to a wall or mobile cart. Unlike a traditional projector and screen, students and teachers can interact, collaborate and even manipulate data on the touch screen using their finger or a stylus tool.
Whether you've been using an interactive digital whiteboard in the classroom for years, or you're thinking about adding it to your technology stack, here are a few benefits and tips to get the most out of them.
1. Capture Great Ideas
The most obvious smart interactive display benefit is that it is your blank canvas. Teachers can use it to make a list of subjects to research or to list the implications of whatever topic is being discussed. Those lists can be captured, shared, or even turned into the starting point for students' homework assignments.
Simply print out the notes. Better yet, publish them as a PDF to your website or email them so students can access them at home. Sharing digital files helps reduce paper usage and supports your school's green initiatives. For example, with our ValueHub Smart Interactive Display, you can save the digital ink layer, then capture a screenshot that you can save, email, or post on your website.
2. Create Multimedia Presentations
You can go beyond capturing a single page when you put your smart interactive display's screen recording tools to work. Many interactive displays make it possible to record audio, and with online screen recording tools, you can create a multimedia presentation right from the content on your board. Leveraging the many ways that smart interactive displays can capture information helps integrate several different learning styles, whether through visual, auditory, or hands-on interactions.
3. Teach Collaborative Problem-Solving Skills
With the interactive display as the central tool, teachers can pose a question to the group and hand the reins over to students to let them solve the problem. Students can get hands-on and collaborate using the smart interactive display. Because it's connected to the internet, they can use online information to help them conclude. Even remote students can participate and provide feedback in real-time.
4. Reach Students in a New Way
Perhaps the biggest advantage smart interactive displays offer is the ability for your students to interact with the subject matter and manipulate objects right on the interactive display. Research shows that kids learn best when lessons cater to a variety of learning styles. For example, interactive lessons that get kids up and out of their seats appeal to kinesthetic learners.
On a regular smart interactive display, you can write notes and draw diagrams to make your point. Interactive whiteboards can do things like spotlighting a capital city on a map, revealing text line-by-line as you read, or highlighting words with your finger. You can also create boxes that hide text and images to reveal later in your lesson. Sections of the board can be magnified to draw attention to specific elements of your lesson such as graphs, keywords, or images.
5. Keep All Students Engaged in Learning
How can smart interactive displays keep learners engaged in the lesson? With interactive tools, instead of always calling on the students who seem to always raise their hands, you can make sure everyone has a voice. Enter students' names ahead of time in a random name generator, then choose students as their names come up. You can also use this tool to assign groups randomly for quick activities. Because today's young people are digital natives, digital interactive display functionalities are easily adopted.
6. Leverage Online Resources
Digital interactive displays can support many free resources and ready-made lesson plans available online. Graphics, sounds, and special effects are ready to go; all you need to do is plug in the variables for your lessons. And, of course, in addition to online resources and text-based lessons, interactive whiteboards also support video and PowerPoint presentations.
7. Remain Mobile
With a wireless pad and pen, you can now control your digital interactive display from anywhere in the classroom, so there's no need to turn your back on the class as you teach. You can download interactive whiteboard apps to turn your iPad or another tablet into a remote controller.
Let your students use these tools to demonstrate an understanding of math problems, label parts of a simple machine, or ask a question for you or your classmates to answer, leaving you free to supervise and help individual students.