Interactive Displays Vs Wireless Presentation Displays: How should I choose?
Just setting up a meeting and getting presenters connected can waste valuable time. As meetings are already a huge time commitment, it's essential to minimize the wasted time (and the frustration it causes). Conventional conference projection solutions include projectors, interactive displays, and complex wireless presentation systems. How should we choose among them?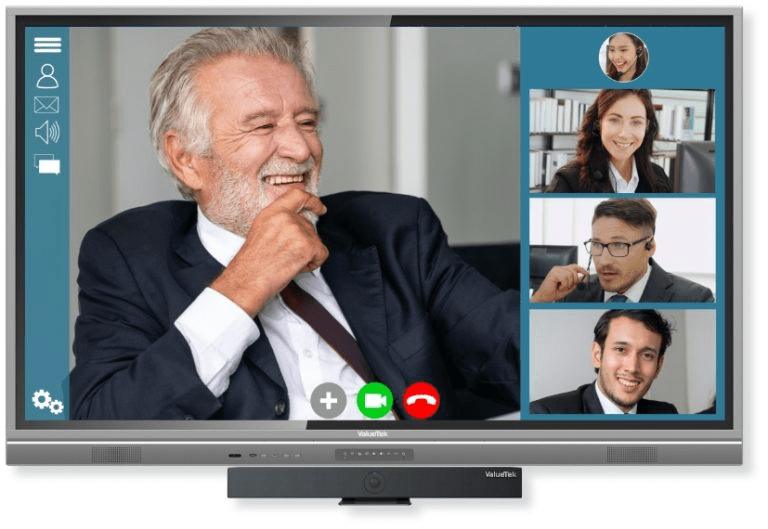 What is a Wireless Presentation Display (WPD)?
A wireless presentation display is an all-in-one presentation system including simple wireless connectivity, screen sharing, and an integrated multimedia display. Their purpose is to make content sharing easier with no cables and no interruptions from switching sources.
A WPD should also include the ability to share multiple screens at once – even from multiple locations – allowing for easier collaboration during meetings and presentations. They should also support videoconferencing peripherals in the form of cameras and microphones.
Advantage of WPDs
Lower initial investment
Multitasking with powerful embedded player and OPS PC slot
Simple functionality allowing for a faster learning curve
No more cables!
Easy Wifi casting/screen sharing
USB flash drive plug-and-play for photos, music, and video
Mirror your content to multiple displays using Companion App
4K High brightness with a slim bezel
Disadvantages of WPDs
Less engagement due to non-interactive screen
Lower functionality and software integrations compared with IFPDs
Not ideal for very large spaces or audiences
What is an Interactive Display?
An Interactive Display is a large-format touchscreen display that allows for users to interact with content directly onscreen. Also known as interactive flat panel displays (IFPDs), interaction and collaboration are at the forefront of their functionality.
Interactive displays are at the forefront of the transformation of work and learning spaces, making interactions between colleagues, students, and teachers easier than ever. Users can upload, access, and edit content for presentations or lessons, right on the screen. Real-time Interaction and collaboration become seamless thanks to multi-touch input that can recognize up to 20 points of touch simultaneously, while built-in software can make adding the media you need for the task at hand easy and efficient.
In short, they are technological solutions that will enable you to take your presentations to the next level, whether in the classroom, meeting room, or blended environment.
Other Names for Interactive Displays
Interactive Displays are often known by several names, including.
Interactive flat panel display (IFPDs)
Large-format interactive display (LFID)
Interactive touchscreen
Interactive whiteboard (IWB)
Advantage of Interactive Displays
Interactive displays provide powerful tools for enhancing in-person and remote collaboration.
Have a wide range of tools to facilitate and enable all different types of collaboration.
The touchscreen supports multiple inputs so everyone can keep their hands on it at the same time.
Third-party storage integration, digital whiteboarding, and annotation capabilities make file sharing, annotation, and editing easy, while 4k Ultra HD resolution ensures that what you share on-screen is visually stunning.
Disadvantages of Interactive Displays
higher initial investment
Take advantage of the software's long learning curve
Need technical support
Collaborative Display in Commerce
Meetings are often time- and energy-intensive for any busy professional, whether office workers, C-suite or IT administrators.
Traditional wireless presentation systems typically involve a lot of hardware and cables and are prone to failure and wasted time, be it connectivity issues, non-intuitive interfaces, or simply obsolete technical difficulties.
IFP and WPD address these issues by creating a seamless experience where users can share their screen wirelessly over corporate secure WIFI or via single sign-on with QR code support.
Among other things, they allow for easy access and sharing of multimedia content and integration of third-party cloud or web applications, enabling more engaging presentations and collaboration meetings, whether the team is face-to-face, remote, or a combination of the two.
Should I choose an interactive display or a Wireless Presentation Display?
Your goals, needs, and desired level of interaction will influence which collaborative display is best for you. Both WPD and IFP provide a range of tools and features that can suit your purposes.
When you're in a situation that requires a high level of interactivity and engagement, for example, when teaching in kindergarten, IFP has everything you need to create engaging lesson packs with activities to keep students focused and learning.
On the other hand, if you need to give quarterly presentations to your C-Suite, some of whom are abroad, then WPD is an ideal solution. You can create a presentation that looks stunning in a conference room, or live stream it to anyone who can't be there in person.
No matter which solution you choose, there are now more opportunities than ever to create visually stunning, engaging, and interactive content for the conference room or classroom.